Feature
W.G. Craigen – Our First President
By Dave Goulding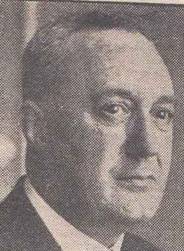 William Gordon Craigen was born in Stonehaven on 29th July 1884. His father, John, was a solicitor; they would later be in partnership together. Educated at Aberdeen Grammar School, he went on to study Law at Aberdeen University, attaining his M.A. in 1905 and his LL.B. (Dist) in 1908. While at Aberdeen University, he was active in the theatrical side of student life, appearing in at least two of their productions of Ancient Greek Drama. His first "straight" acting role was as Sherlock Holmes in a production by Aberdeen Grammar School Former Pupils' Dramatic Club and he regularly appeared in radio plays on Aberdeen's early radio station, "2BD".
"W.G." wrote both the music and lyrics for many of the humorous ballads that he performed, and wrote many pieces of "light" music. He was a fine singer, his voice described as a "very pleasing baritone". Many of the magical effects that he performed were of his own invention and manufacture.
He was an inventor of games, successfully filing a patent with the U.S. Patent Office in 1925. It was for a Yachting-based game, using the power of magnets. Not perhaps too surprising for a magician but ingenious nevertheless. I have reproduced the patent document in this edition. This patent has been referenced several times since being recorded, the most recent being by the Mattel Company in 2010 for use in their toy car packaging!
As with many young men of that era, his life was thrown into turmoil by the outbreak of the First World War. Previously in the 2nd Scottish Horse (University Troop), he was a 2nd Lieutenant in the 1st Highland Brigade, Royal Field Artillery (Territorial), his appointment coming on the 2nd September 1914. He was seconded for "Special duty" in 1915 and became "Chief Instructor, Artillery Training Schools" until July 1918. He was invalided and joined the "Military Staff, Ministry of Munitions" until 1919, acquiring the final rank of Acting Major.
His legal career seemed to go from strength to strength. He became a partner in "John and W.G. Craigen", a very well known Aberdeen legal firm. The name Craigen has now disappeared from the brass plates outside of the front doors around Bon Accord Crescent and Golden Square, with "Craigens" having been amalgamated into another Aberdeen law firm just a few years ago.
Magically, W.G. was seen as a very prominent man in Scotland and even nationally. As well as being a founder member of the Aberdeen Magical Society and, of course, its first President, he was very active in SAMS (the Scottish Association of Magical Societies) and was their second President. He was passionate about our Society and particularly its independence. There were moves to bring all of the magic Clubs and Societies in Scotland together as one organisation but many people, W.G. prominently, objected to and fought against this. Partly as a consolation, Mr Craigen suggested that an organisation be formed so that the Societies around Scotland could be part of a group, without one club holding sway over everyone else. He came up with the name "Magicians and Conjurers of Scotland" (MACS). This eventually became SAMS (Scottish Association of Magical Societies).
In 1940 the Glasgow club, Scottish Conjurers, appointed W.G. as their "Honorary President" in recognition of the innumerable charity shows that he'd performed in, all over the country.
W.G. was an avid letter-writer. He communicated on a regular basis with Arthur Ivey (1891-1975), the long-time curator of the Magic Circle Museum and with C.J. Crambie, the technical advisor and assistant to Chung Ling Soo (William Robinson), among many, many others. In one of Mr. Crambie's letters to Mr Craigen, he states "We who knew Robinson say he was murdered". A startling claim as the verdict on Robinson's demise (during the "Bullet Catch") was 'accidental death'. W.G.'s correspondence with Arthur Ivey was credited as a source in Jim Steinmeyer's brilliant book on Chung Ling Soo/William Robinson.
For a while, Mr. Craigen was a regular contributor to a fantastic British magic magazine, "the Magic Wand". This was the successor to "the Wizard", started and edited by P.T. Selbit. The Magic Wand sadly ceased production in 1957 but was bought (the rights to it anyway) and digitised by Martin Breese. John Hinchcliffe (who took over Martin's business after his death) still sells it as a 3 CD set containing all issues ever published.
W.G. was a very well qualified man academically and was decorated by a grateful nation during and after the Great War but, I suspect, the award for which he was proudest came in 1933 when the Magic Circle promoted him to become a Member of the Inner Magic Circle. This was, of course, in the days when there was no differentiation between "gold" and "silver" members. Most of the members of the Magic Circle were, after all, "Gentlemen Conjurers", as were most of the members of Aberdeen Magical Society. Common "professionals" were, I think, looked down on a little. Quite right too!
Outside of his work within the Magical Community, W.G. was, for thirteen years, a director of the Aberdeen Association of Social Service. He was, again for many years, the Secretary and Treasurer of the Aberdeen Public Soup Kitchen. As noted in one of his obituaries, he was prominent in the P&J's "Willing Shilling Fund Camp" and was involved in raising funds for many other charities. Someone estimated that his magical performances for charity numbered several hundreds.
Through my researches, I found that he was also a published author. One book he was co-author of was, I think, privately published ("Record of the Arts Class of 1902-06") but the other was fairly successful, being a method of learning Morse Code, bearing the splendid title of: "Umty Iddy – The quickest and simplest method of learning the Morse alphabet". This was published in 1940 and was, of course, a great help to the war effort.
W.G. stepped down as our President in 1945, as the Second World War came to an end. After nineteen years of service, one may have thought that he would take a back seat and enjoy watching others do all of the work. Not a bit of it! He was elected onto the committee as soon as he stepped down and remained an active, enthusiastic and even innovative member of the committee and the Society up until a few months before his untimely death. He covered for his successor, Major Milne, as chairman when the Major was away from the Society for an extended period of time; he acted as Secretary when one was needed; he was our representative at The Magic Circle (when we were affiliated to them), our representative at SAMS and at NAMS (National Association of Magical Societies, now defunct) and also at the IBM. He remained an organiser and performer at the Public Shows, "Sorcerers' Suppers" and "Ladies' Nights".
W.G. Craigen died at the comparatively young age of 66 on December 18th 1950 after being ill for some time, spending quite a time in hospital and undergoing surgery. He is immortalised on our Presidential Jewel (as are all Past Presidents) as well as in print. We too should always remember him as a great contributor to the world of magic, to British and Scottish Magic and to our own Society, perhaps more than anyone else ever has or ever could.
W.G.'s wand was broken on December 17th 1950, exactly twenty-four years after the foundation of his beloved Society. It is a testament to the man and his work that he, and his work, are still remembered today.